Shopping Basket
Your Basket is Empty
There was an error with PayPal
Click here to try again
Thank you for your business!
You should receive an order confirmation from Paypal shortly.
Exit Shopping Basket
Military Antiques and Medals. Medal Mounting & Restoration
I have just got back from a successful trip to Australia to sort of a temporary stock of medal cases. That has now been resolved and I have a regular supply of quite economical cases made for the Australian jewellery industry but idealy suited to medals.
We have been very busy post ANZAC Day and things are now only beginning to slow down.
ANZAC day this year was very busy. Our lead up commenced in late January and our daily workload was quite significant.
We are still busily remounting groups to include the new NZDSM, which is being rolled out in good numbers.
We are delighted and also very proud that all deadlines were met and everyone got their mdals on time for ANZAC Day. We say many of our clients in newspapers and on TV wearing their medals with pride. It is great to be involved with a business of this nature which restores family treasures and heirlooms.
Even the day be ANZAC Day we were mounting medals for clients who called us needing some last minute help. We met great people, no less than 3 WW2 DFC winners, some neat kids wanting to wear their great grandfathers medals and we gladly gave a Memorial Cross to a lady whose father was killed in WW2.
Our NZDF Medal Mounting obligations have been very significant and the range of modern medals we have seen has been exceptional. One sad thing we have noticed however has been the extent of damage caused to medals by previous mounters, and we have updated our section of the site accordingly with images. This is a very significant problem and whilst we will replace damaged clasps and bars as and when we can it is a totally avoidable problem - which is still happening. There are sadly some people mounting medals in NZ who lack the skill to do so without damaging your medals. Be wary who you entrust them to.
We have now received our replicas of the NZDSM. They are quite passable and we are pleased with the colour matching - as we have seen a wide range. We are offering these for $25 unmounted and with a clasp, or $35 mounted. We have supported a NZ business in having these made in New Zealand.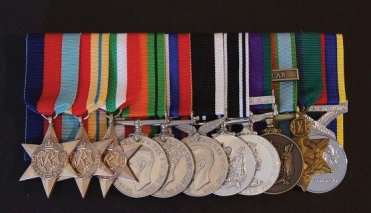 By the end of May we hope to have a new range of medal cases. We are pleased that these are also being sourced locally.
Thank you for your support
Aubrey Bairstow
NZ Medals Ltd
/